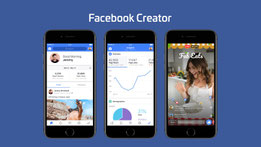 Video Creation Kit: über Templates viel einfacher Video Anzeigen erstellen (ab August 2018)
Ganz unauffällig und fast im Nebensatz hat Facebook ein neues cooles Tool für Facebook Anzeigen und Seiten vorgestellt: das Video Creation Kit.
That's why we're launching Video Creation Kit to make it easier for all advertisers to create mobile-first video ads. Video Creation Kit helps advertisers create eye-catching, effective mobile video ads using existing images. The tool will enable advertisers to upload images, add overlays and logos to quickly build mobile-first video ads.
Das heißt Facebook gibt euch ein einfaches Tool an die Hand, mit dem ihr Videos für eure Anzeigen erstellen könnt. In ein fertiges Template fügt ihr eure Inhalte ein und habt nach kurzer Zeit ein passendes Video. Hört sich sehr einfach an und das ist es auch. Wer bisher nicht die Ressourcen oder die Tools für einfach animierte Videos hatte, kann sich sehr über die Funktion freuen.
Dabei ist der Begriff "Video Creation Kit" vielleicht etwas weit gegriffen oder weckt zu viele Erwartungen. Es handelt sich dabei nicht um ein Programm zum Bearbeiten und Schneiden zum Videos. Definitiv nicht. Stellt es euch her als die fancy Version der Facebook Slideshow vor, die ihr schon lange auf Facebook erstellen könnt. Facebook wird euch aber hier auch direkt das passende, auf die mobile Nutzung optimierte, Format vorschlagen.
Tutorial: mit dem Video Creation Kit einfache Videos erstellen
Ihr findet das Tool in eurem Werbemanager, nachdem ihr die Kampagne und das Ad Set definiert habt, bei den Optionen zum Erstellen des Formats. Dort wählt ihr einfach das Video als Format aus:
Die ersten beiden Optionen solltet ihr bereits kennen und über den Button "Templates" kommt ihr zum neuen Video Creation Kit von Facebook.
Schritt 1 – Template auswählen
Danach gilt es ein passendes Template auszuwählen. Aktuell bietet Facebook drei unterschiedliche Templates, die auf unterschiedliche Ziele zugeschnitten sind. Zum Beispiel eines zum darstellen verschiedener Produkte, hier braucht hier 4-7 passende Bilder und erhaltet danach ein Video von 6 Sekunden.
Schritt 2 – Template anpassen
Jedes der Templates besteht aus unterschiedlichen Elementen. In unserem Screenshot seht ihr ein Template mit drei Elementen (oben links). Jedes dieser Elemente gilt es anzupassen.
Facebook bietet euch hier immer verschiedene Optionen. Ihr könnt für jedes Element den Hintergrund (Bild oder Farbe) definieren, Logos hinzufügen und Text hinzufügen.
In der aktuellen Version müsst ihr euch ein passendes Template suchen und so gut es geht darin eure Idee verwirklichen. Es gibt noch keine Option beliebig viele Elemente zu ergänzen oder das Template sehr flexibel zu personalisieren.
Schritt 3 – Speichern
Danach gilt es eigentlich nur noch das Video zu speichern. Nach dem Speichern habt ihr die Option es direkt für die Anzeige zu nutzen oder ihr erstellet noch ein paar andere Versionen für die Anzeige und testet, was am besten funktioniert.
Kann ich die Templates auch für normale Posts nutzen?
So wie es aussieht ist das Feature vorerst im Werbemanager von Facebook verfügbar und nicht direkt auf der Seite. Deshalb ist die richtige Antwort: Jein. Ihr müsst die Inhalte im Werbemanager erstellen und könnt dann ja selbst entscheiden, ob der Post auch auf der Facebook Seite veröffentlicht wird und wie viel Budget ihr in die Anzeige steckt. Das heißt es geht schon, aber es ist nicht wirklich komfortabel. Wir würden aber fast darauf wetten, dass man alles ein paar Monate später dann auch direkt auf der Seite nutzen kann. Das war mit einer Facebook Canvasam Ende auch so.
Ab wann sind die Facebook Video Teamplates verfügbar?
Laut Facebook ab August 2018: Video Creation Kit is currently in testing and will start rolling out to all advertisers in August for ads on Facebook, Instagram, Messenger and Audience Network.
---
---
Inspiriert? Dann sollten wir heute noch gemeinsam starten - 3, 2, 1 und los geht's!